Home Visit Physiotherapy in Southend-on-Sea: Convenient and Personalized Care by Physio2Home
Living with injuries, chronic pain, mobility issues, or age-related conditions in Southend-on-Sea can be challenging when accessing physiotherapy clinics. However, there's a solution that eliminates these challenges – home visit physiotherapy from Physio2Home. Let's explore the benefits and services that Physio2Home offers to residents in Southend-on-Sea.
1. Convenience and Personalized Treatment
Home visit physiotherapy offers unparalleled convenience. It allows you to seamlessly integrate therapy into your daily routine without the hassle of travel. This convenience is particularly valuable for seniors, busy professionals, new parents, and individuals with limited mobility. Plus, receiving treatment in the familiar comfort of your own home promotes relaxation and open communication with your therapist.
Physio2Home takes personalization to the next level. By assessing your symptoms and challenges in your actual living space, our experienced physiotherapists can develop tailored treatment plans that target your specific needs. This may involve hands-on techniques such as massage, joint mobilization, traction, and electrical stimulation. We also prescribe specific exercises utilizing equipment like resistance bands, weights, and exercise balls to help you meet your goals.
2. Improved Access to Specialized Care
For those finding it difficult to leave their homes, home visit physiotherapy breaks down barriers, ensuring you receive the pain relief and mobility improvements you need. Our Physio2Home therapists have extensive experience addressing a wide range of conditions, including:
Post-operative recovery: Regain mobility and function after procedures like hip/knee replacements or spinal surgery.
Neurological conditions: Manage symptoms of stroke, Parkinson's disease, and multiple sclerosis through tailored exercises.
Musculoskeletal injuries: Relieve acute back pain and recover from fractures using hands-on modalities.
Respiratory illness: Clear chest congestion and improve breathing with COPD through airway clearance techniques.
Loss of mobility: Increase strength, improve balance, and stability to avoid dangerous falls.
3. Long-Term Benefits of Home Physiotherapy
The benefits of home visit physiotherapy extend beyond the individual appointment. Through both immediate and lasting improvements, you can experience a significant enhancement in your overall quality of life.
Hands-on techniques bring quick relief from common issues like muscle soreness and joint pain, with many patients experiencing lasting pain reduction.
Progressive exercises improve strength, balance, flexibility, and coordination, making daily movements easier and safer in the long run.
Customized exercise programs facilitate faster recovery from injury, surgery, and illness.
In some cases, such as osteoarthritis, physiotherapy can even help you avoid surgery through non-invasive treatment.
Home physiotherapy empowers you to participate in work, family, and leisure activities pain-free, ensuring greater independence and a higher overall quality of life.
Choosing the Right Home Physiotherapy Provider
Don't let mobility challenges hold you back from getting the physiotherapy you need. Home visits from Physio2Home bring safe, effective, and convenient treatment right to your door. If pain or limited mobility is affecting your comfort and independence in Southend-on-Sea, consider adding home physiotherapy to your care plan. Contact Physio2Home today to learn more and schedule your initial evaluation. Together, we'll help you renew your function and get back to enjoying your daily activities.
What to Expect During a Home Physiotherapy Visit with Physio2Home
If you're considering home physiotherapy with Physio2Home in Southend-on-Sea, it's natural to wonder what a typical session looks like. Here's a breakdown of what you can expect during a home visit from one of our experienced physiotherapists:
Initial Evaluation
Your first home visit will begin with a comprehensive evaluation. Our physiotherapist will review your medical history, discuss your symptoms, and assess various aspects of your condition, including mobility, flexibility, strength, balance, and more. This evaluation helps us gain a clear understanding of your unique needs.
Personalized Treatment
Based on the initial evaluation, your physiotherapist will initiate personalized hands-on modalities designed to provide pain relief or improve joint mobility, all tailored to your specific requirements. These treatments may include massage, mobilization, soft tissue techniques, traction, and electrical stimulation, among others.
Customized Exercise Plan
In addition to hands-on treatment, we'll prescribe specific exercises that align with your treatment goals. Our physiotherapist will demonstrate proper form and technique, ensuring you're comfortable and confident in performing these exercises. We may use equipment like resistance bands, weights, exercise balls, or foam rollers to help you regain function.
Patient Education
Education is a fundamental aspect of home physiotherapy. We're committed to empowering you with the knowledge and tools needed to manage your symptoms effectively. Expect valuable advice on posture, preventing future injuries, managing existing health conditions, using adaptive equipment, and more. Our goal is to provide you with the skills for self-management.
Ongoing Progress Evaluation
At Physio2Home, we believe in tracking progress and adapting our treatment plan as needed. Your physiotherapist will conduct regular re-evaluations to monitor your condition's progress, ensuring you're on the right track toward meeting your goals. Open and ongoing communication is encouraged to address any improvements or new challenges.
Long-Term Benefits and Empowerment
The long-term benefits of home physiotherapy with Physio2Home are substantial. Not only do we aim to provide immediate relief and lasting pain reduction, but we also focus on improving your overall mobility, strength, flexibility, and coordination. This holistic approach enhances your daily movements, leading to greater independence, safety, and a higher quality of life.
By choosing home physiotherapy in Southend-on-Sea with Physio2Home, you're taking a proactive step towards managing your pain and improving your mobility without leaving the comfort of your residence.
Making Home Physiotherapy Part of Your Southend-on-Sea Care Plan
If injury, pain, or mobility issues are affecting your comfort and quality of life in Southend-on-Sea, consider incorporating home visit physiotherapy from Physio2Home into your care plan. Our professional and customized approach has helped many patients renew their function and regain the ability to enjoy daily activities pain-free.
Contact Physio2Home today to learn more about our services and to schedule your initial evaluation. Our experienced team is dedicated to assisting you on your journey towards improved well-being, right in the comfort of your own home.
Embracing Home Physiotherapy with Physio2Home in Southend-on-Sea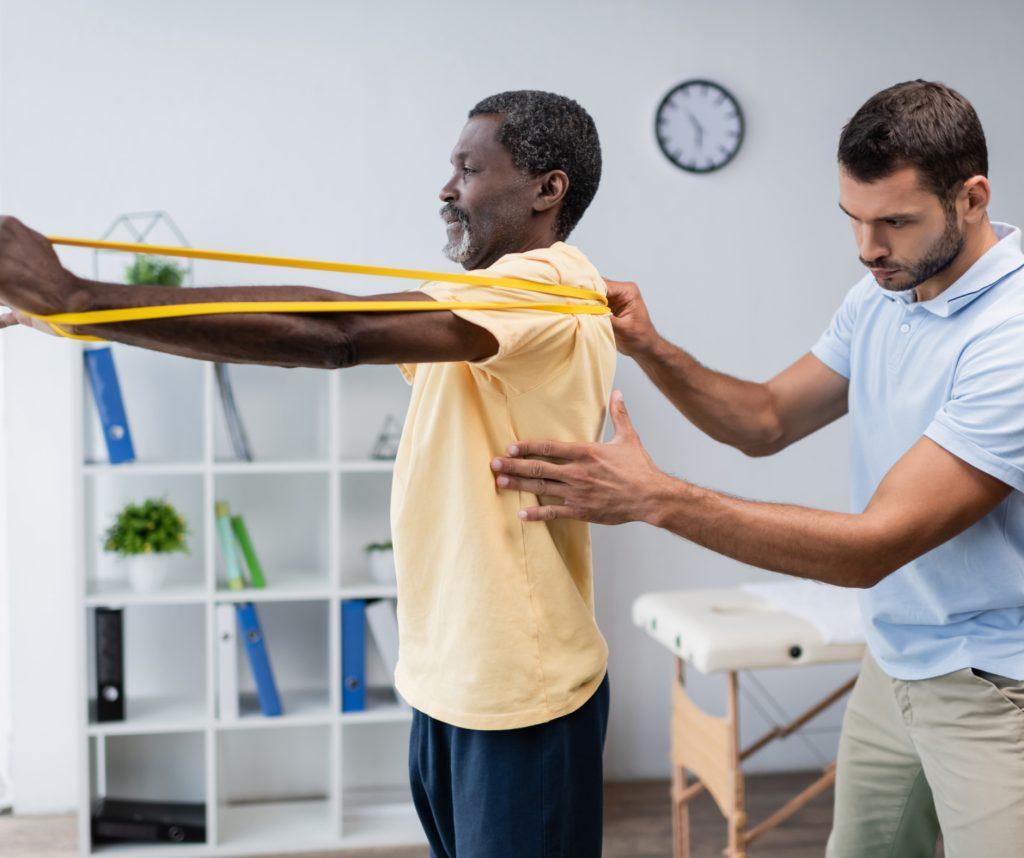 Don't let mobility issues or pain hinder your comfort and independence. Physio2Home brings safe, effective, and convenient treatment right to your doorstep in Southend-on-Sea. Our experienced and licensed physiotherapists are committed to helping you regain function and enjoy your daily activities without pain.
To take the next step toward improved well-being, contact Physio2Home today to learn more about our personalized home visit physiotherapy services. Schedule your initial evaluation and let us be your partner in achieving a pain-free and mobile life in Southend-on-Sea.
Contact Physio2Home for Home Visit Physiotherapy in Southend-on-Sea
Here at Physio2Home, we truly understand the significance of tailoring physiotherapy services to meet your needs in Southend-on-Sea. Our aim is to provide you with personalized, convenient, and effective care that comes directly to your doorstep. No more worries about the hassles of traveling to a clinic – we bring professional treatment right to you.
Our dedicated team of experienced and licensed physiotherapists is committed to your overall well-being. Whether you're on the journey of recovery after surgery, managing persistent pain, working on mobility challenges, or seeking relief for a specific condition, we've got you covered. We're proud to offer individually crafted treatment plans that perfectly align with your unique requirements. Plus, we continuously monitor your progress to make sure you're on the path towards a life free from pain and full of movement.
Our reputation for delivering excellence, along with our flexible scheduling options and unwavering dedication to your health, sets us apart as your trusted partner on your journey to wellness.
So, what's the next step? It's simple:
1. Reach Out to Us: Contact Physio2Home today to discover more about our services, have a conversation about your needs, and set up your initial assessment.
2. Have Questions? Just Ask: Feel completely at ease to ask us any questions that come to mind. We're here to provide you with all the information you need to confidently decide on your physiotherapy care.
3. Get Ready for Your Assessment: Prior to your first home visit, take a moment to reflect on your symptoms, challenges, and treatment goals. This insight will help us design a personalized plan that's perfectly tailored to your specific needs.
4. Embrace the Benefits: With Physio2Home, you'll experience the sheer convenience of receiving top-notch physiotherapy in the comfort of your own home. You'll receive the individual attention and care you rightfully deserve, all thanks to our skilled and dedicated team.
We're truly excited to be a part of your journey towards improved health, better mobility, and overall higher quality of life. Don't hesitate – get in touch with Physio2Home today to embark on this transformative path with us. Take that crucial first step towards a life that's more comfortable, independent, and pain-free in Southend-on-Sea. Choose Physio2Home for all your home visit physiotherapy needs.
Contact Information:
Don't wait – reach out to us today and experience the benefits of personalized and convenient home visit physiotherapy with Physio2Home in Southend-on-Sea. Your well-being is our priority, and we look forward to assisting you on your journey to a healthier, more active, and pain-free life.